JEREMY MATLOW CAMPAIGN
BRANDING + PROMOTIONAL CONTENT
jeremy matlow's campaign stands on the foundation of unity. for this project, i was inspired by his message that speaks to all. I created a brand that is youthful, yet traditional and direct.
IZZY PUB & SUSHI
BRANDING + custom hand-painted imagery + CHINESE NEW YEAR PROMO
Izzy Pub & Sushi is a Japanese and Pan-Asian influenced restaurant in the heart of tallahassee's midtown. Their inspiration roots from a traditional izakaya; a casual, Japanese Pub. influenced by their approach, i created a clean yet flowing brand that appeals to their restaurant vibes.
I was able to keep working with the folks at Izzy and created 2 murals. One of which is a digital wall wrap design filled with a more youthful theme of anime. the other is a hand-painted indoor mural that sticks to a more traditional route. It highlights the Enso circle and features kanji translating to "eat" "drink" and "respect the wood"… the last of which is an inside joke (…but should always be considered)
last but not least, i created promotional material for their chinese new year celebration.
enjoy <3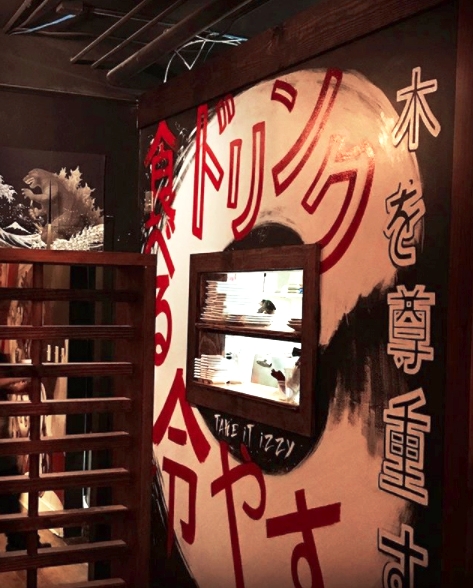 CIGAR BOX SERENADERS
BRANDING + PACKAGING
This New Orleans musical group promotes sweet sounds and sustainability. All of their instruments are 100% upcycled. For their brand, I created a look that feels both vintage and hand-made.
WARHORSE BAR MENU
Warhorse whiskey bar sets up a casual, noir scene in the hub of Tallahassee's art district. They carry a wide variety of whiskeys and specialize in hand-crafted cocktails. Their logo and overall look was created by Peter and Alex Koenig of baet collective (my team!). For this specific project, we all worked together to create a menu that not only showcases thier plethora of whiskeys, but presents to you a closer look into the world of the warhorse.